More than 37 million people in the U.S. have diabetes. According to the Centers for Disease Control and Prevention, average healthcare costs for diabetics are twice that of those who do not have the disease.
To help overcome some of the barriers to receiving healthcare, New Braunfels Christian Ministries' Volunteers in Medicine (VIM) provides free, quality medical care for uninsured, low-income residents of Comal and Guadalupe Counties. Diabetes is among the top three chronic illnesses VIM treats.
In 2021, VIM treated and cared for 143 diabetic patients– 64 percent of whom showed improved management of diabetes by maintaining an A1c of less than 9 percent.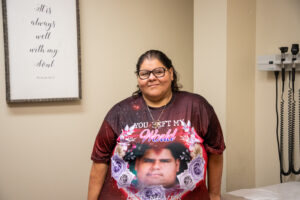 Rosemary came to VIM nearly 10 years ago seeking guidance for her diabetes. After dealing with roller coaster glucose readings, she knew something needed to change.
"I wanted to find a way to control it to where I can keep account on it. Why is it going up? Why is it going down? I just wanted to see what's causing it," Rosemary shared.
In addition to regular primary care, quarterly labs and diabetic education, Rosemary said VIM recently introduced her to a continuous glucose monitor, a wearable medical device that constantly measures a person's blood glucose. This monitor, provided by VIM's expanded diabetic education initiative, has helped her take more control over her diabetes.
By receiving real-time levels on her phone, Rosemary said she can better understand how different foods impact her blood glucose. When her glucose reaches a high or low level, the monitor will alarm, empowering her with the data she needs to take action.
 "I feel more at ease. It's like I can keep track of it," she said.  
Rosemary said VIM has also referred her to outside organizations, such as Any Baby Can and Wesley Nurse, connecting her to other resources in the community that can further help her take control of her health.
"[They've] kept me alive, kept me going, kept my spirit up, my energy. Whether they're helping me with medication and treatments, I guess if it wasn't for them, I wouldn't be alive to that point," Rosemary explained.
Aside from medical support, Rosemary said VIM staff have walked alongside her and encouraged her to keep her late son's memory alive by managing her diabetes and taking care of her health.
She said, "I love them. They're the best people. They make my day the same way I make their day."