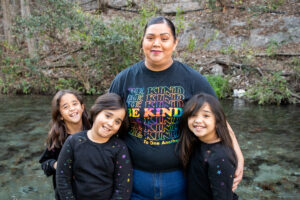 Kids Club is empowering kids through its summer camp and school year programs. Three sisters – Marley, Melody and Melanie – have had the chance to experience both programs first-hand. They first attended Kids Club Camp in summer 2021, which opened the door for them to attend Kids Club during the school year.  
Their mom, Naomi, said Kids Club provides a safe environment where her daughters can fellowship with children their age. She explained how Kids Club has equipped her daughters to grow, express themselves and learn biblical truths.  
"It [is] a really encouraging experience and helped them have more courage to talk about Jesus," Naomi said.   
She said that courage has even prompted the girls to talk about Jesus in public places, like the store. 
"They just walked up to a lady like, 'Hey, do you know about Jesus?' And her little heart melted, you could tell," Naomi said.   
While Kids Club has helped all three girls grow, Naomi said Marley has really thrived.   
Prior to attending Kids Club, Naomi said Marley was shy and quiet at school and in other social settings. The caring staff and volunteers have helped Marley feel more comfortable to play with other kids and have fun.  
"Now she talks a lot more. She is more willing to make new friends. That was a big thing for me," Naomi said.  
Marley said what she loves most about Kids Club is learning about Jesus and going outside to play.   
"I love that they are engaging every part of them." Naomi said. "I want my kids learning as much as they can, and it takes a village. Everyone at Kids Club is listening. They're great at showing the kids love."